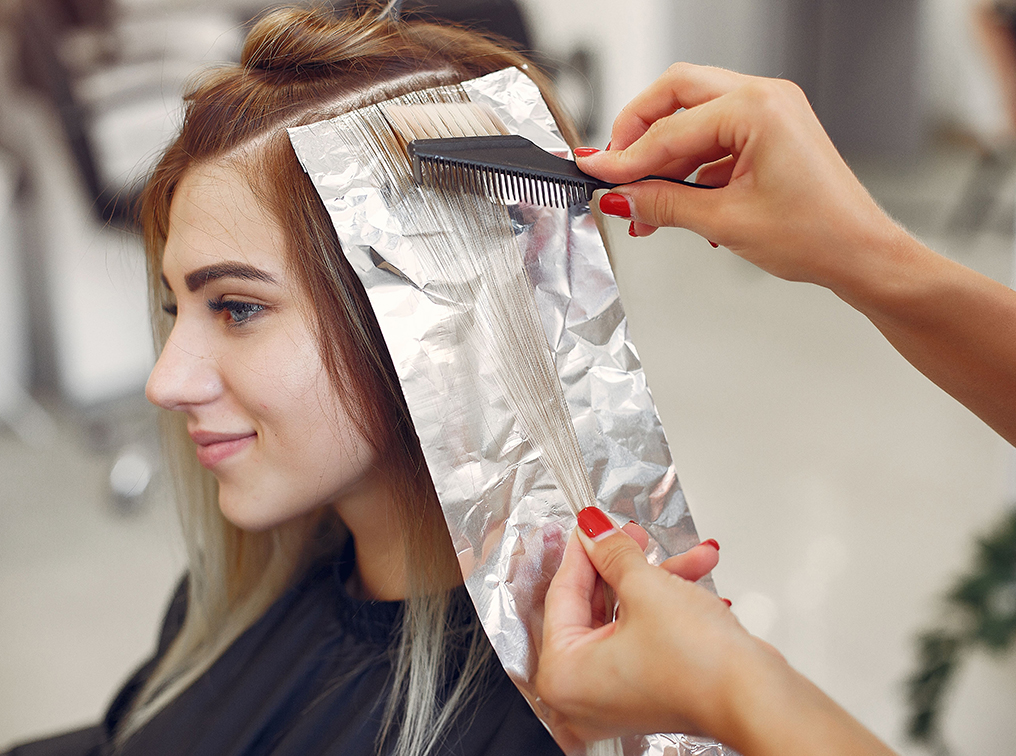 At Arte Beauty & Wellness, our experts in hairdressing and colorimetry are trained according to the latest trends and techniques to bring you the best in coloring. Whether you want a sunny effect or a nuanced color, our specialists in colorimetry are at your disposal to achieve the hairstyle of your desires.
You will be given the choice of technique. From permanent, semi-permanent, tone-on-tone, or highlights, you can count on our expertise to meet all your requirements.
All colorations are tailor-made and we also take into account the nature of your hair, so as not to damage the hair fiber. For this, we use ammonia-free colorations in order to preserve the hair.
Thus, you will benefit from an expert diagnosis in order to bring you all the quality of professional coloring.
Coloring
Permanent: The most widely used coloring technique, the coloring molecules penetrate deep into the hair fiber, thus allowing to obtain a long-lasting color over time.
Semi-permanent: This coloring technique is used to modify a natural color. The latter fades progressively with each shampoo.
Highlights: As its name suggests, the hairdresser operates strand by strand. All the hair is not covered. With this method, you can create a contrast with your natural color or simply illuminate it.
Tone-on-tone: This method, much less aggressive than perming, fixes the pigments around the hair fiber thanks to oxidizing agents. This process, therefore, does not act at the heart of the fiber, thus preserving the hair.
Brilliance, glow & flash: Flashes are a lighter version of highlighting. It is therefore the smallest step towards coloring. Lowlights are almost imperceptible, and they are made on top of the hair.
Shades, shadow & light: The principle of ombré hair is to keep the natural color at the roots and gradually lighten the tips. This is done gradually so that there is no clear demarcation between roots and tips.
Painting: This process is based on freehand painting of hair strands. Thanks to it, the regrowth appears much more natural, thus avoiding the rather unwanted "bar" look.
Tie-Dye: It consists of dipping the hair ends in a color completely different from the natural color of the hair in order to have a strong contrast.
Contrast or Natural: Contrast gives the hair depth. From the root to the tips, the color remains light but still more intense than flashes.
Book an appointment with our hairdressers.
Centre Commercial Coop Les Moulins
Route de l'Ancienne Ciblerie 2
CH – 1095 Lutry
Mon – Thurs 08:00 am – 7:00 pm
Fri 08:00 am – 8:00 pm
Sat 8:00 am – 6:00 pm
EPFL – SwissTech Center – Les Arcades
Avenue Louis-Favre 10a
CH – 1024 Ecublens
Mon – Fri 08:00 am – 8:00 pm
Sat 8:00 am – 6:00 pm